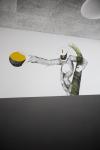 Spitzwald Kindergarten
Wall Drawings
Murals on the interior walls of Spitzwald Kindergarten in Allschwil, a village next to Basel, Switzerland.
Within the period of two weeks I drew on the walls directly using acrylic paint and graphite pens.

Architecture and Planning:
Stern Zürn Architects
The illustrations show monster-like characters that explore their surroundings.
They meet all kinds of animals that play with differently colored magical globes.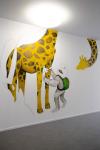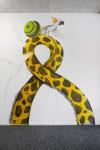 There is three globes of every color, so that the children can discover all of them while walking the corridors of the Kindergarten.

↓
Spitzwald Kindergarten
Wall Drawings
Created in 2014
↓
Client: Municipal Administration Allschwil
Architecture: Stern Zürn Architects
Concept & Illustration: Philipp Zurmöhle